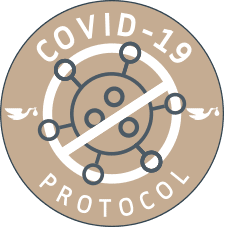 Taking care of you from day one
We know the wait has been long enough and your dream of starting a family should not have to wait any longer because of the pandemic.
Therefore, at Equipo Juana Crespo, we have implemented all the preventive measures within our powers to provide care with optimal safety and hygiene guarantees. Because looking after you means looking after ourselves.
We have adapted our work and medical care protocols while maintaining the highest quality standards, in order to keep the treatment process running as smooth as possible.
We thank you for your level of responsibility, because together we make our clinic a safe and COVID-free place.
What will we do before the face-to-face appointment at the clinic?

To help reduce time spent at our clinic and to help prepare for your visit, we have implemented a prior online appointment. Your first consultation and many of the following appointments can be done online as well. This method gives us a great advantage, as we can start working on your case before your visit. This way, once you arrive, we can focus on your treatment´s strategy.
You will be assigned a nurse for the prior online appointment; she will be gathering all your medical information, and help our doctor prepare for your first consultation, so that we can focus on your first gynaecological examination upon arrival. After your appointment with our doctor, you will leave with a diagnosis and a personalised treatment plan.
This allows us to treat our patients from other countries and not just Spain. We will minimise visits to our clinic, only requiring you to travel for the most important ones.
Before your appointment at our clinic, we will call you to check your health and clear up any doubts you might have.
When you must avoid coming to our clinic?
If you have or have had fever, cough, or any breathing problems in the last 14 days. You must contact your primary care doctor and avoid coming to our clinic.
Moreover, please avoid coming if you have been in contact with people diagnosed with or are under suspicions of having COVID in the last 14 days.
If this happens, there is no need to worry. We will be in touch and will arrange a new appointment as soon as your health allows it.
What will your visit to the clinic be like?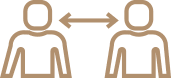 When you visit our clinic, please follow the usual health recommendations. Wear a mask, try to be on time to avoid unnecessary delays and remember that keeping a safe distance is important.
Protective screens have been placed in areas where the minimum recommended distance is not possible.
PCR test before starting treatment
To ensure maximum security during treatment, we perform COVID-19 diagnostic PCR tests for patients undergoing operations with general anaesthesia/intubation.
We will also perform a PCR test before an embryo transfer, to make sure you are as healthy as possible for a pregnancy.
What extra measures has the clinic taken?

The cleanliness and hygiene of our facilities by the maintenance and biosecurity staff is nothing new. However, we have now reinforced this action by developing new protocols for cleaning and disinfection of healthcare spaces and on surfaces where there is contact with new disinfectant products against COVID 19 and other pathogens.
We have organized the activity of the clinic and its spaces to reduce the capacity, both for staff members and patients, and we have also limited access to external personnel and pharmaceutical visitors.
In addition, the clinic has an air circuit that ensures its renewal several times per hour.
In case of suspicion or detection of a positive case of COVID 19, both in patients and in our clinical staff, we have a rapid action protocol. We can perform PCR's on both patients and staff members, following the recommendations of the Health Authorities.
With all this, we have implemented and are following extremely strict hygiene and disinfection protocols to keep our clinic COVID-free.
Because by protecting you,
we are protecting ourselves.